​Recruitment Process Outsourcing (RPO) is a management strategy in which a company outsources a recruitment firm to act as its own in-house recruiter. ManpowerGroup Middle East excels at providing the finest recruiters for the job, offering tailor-made solutions that include not only hiring services, but also the technology, expertise, and techniques needed to meet the unique needs of our clients. Our experts offer cost-effectiveness, a more efficient recruiting process, scalability, a superior candidate experience, and talent quality. Our recruitment outsourcing services can be delivered on-site as an extension of the client's hiring team, remotely, or in a hybrid configuration.
RPO Service Models
We offer a versatile and highly efficient methods for handling all your recruitment requirements.
We offer four types of service models:
Full RPO
It is a complete turn-key solution that addresses every aspect of your company's recruitment processes. Our RPO recruiters provide a diverse range of resources to assist you in producing high-quality workforce solutions.
On-Demand RPO
A contractual collaboration with a qualified recruiter. Our on-demand RPO assists you in dealing with hiring peaks and surges while managing inevitable rapid changes. You have immediate access to the resources of experts who are familiar with your company, branding, values, philosophies, and processes.
PROJECT-BASED RPO
Project-based RPO is ideal if your organization wants to use in-house recruitment for daily hiring and outsource for specific projects. Project-based RPO is suited for short-term hiring needs with goals and deadlines.
HYBRID RPO
It's a comprehensive workforce solution that combines permanent and contingent labor hiring and management. Our coordinated approach as a Managed Service Provider ensures that your company has complete control over recruitment processes.
RPO Service Models
​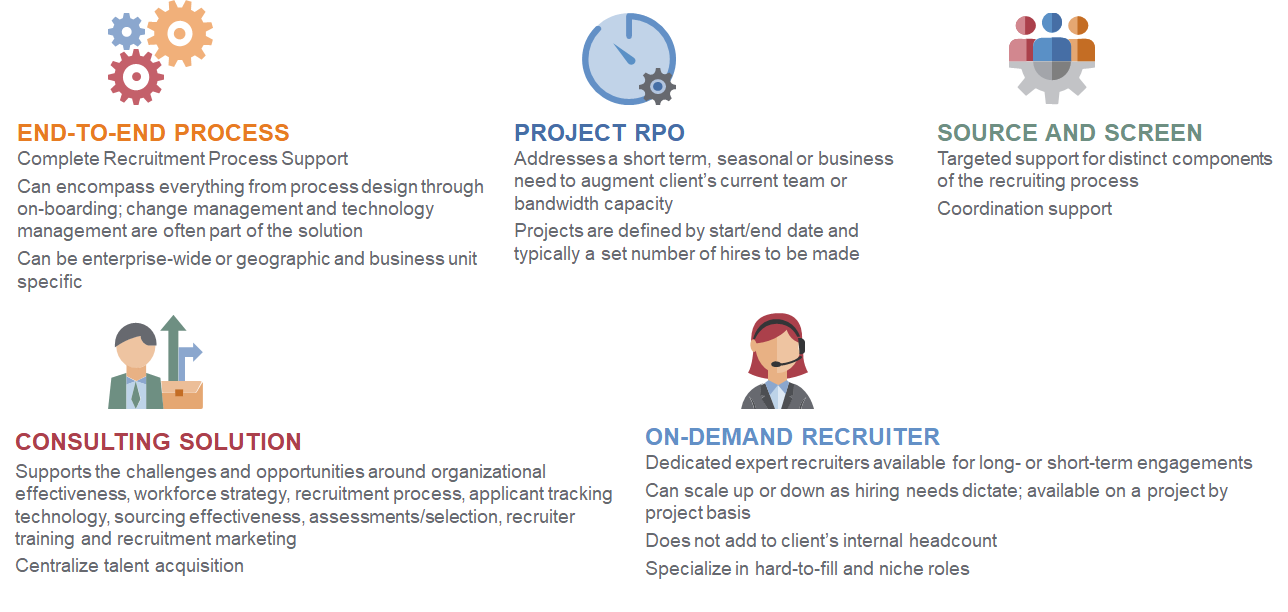 RPO Pricing Models
The cost of an engagement is determined by factors specific to your project scope and objectives
The duration and immediacy of the RPO contract

The desired RPO solution type

The positions and key competencies required

Need for further services
ManpowerGroup Middle East offers the standard following payment methods:
Cost-Per-Hire: Businesses incur a fixed cost per employee for various levels of employment.

Cost-Per-Resource: Each client-assigned resource is billed at a standard monthly charge.

Hybrid: Blended models merge cost-per-hire and resource-based pricing components.

Transaction-based: Employers are charged for factors in the recruitment processes such as interviews, reviewing a candidate's job experiences, negotiating salaries, background checks, etc.
Benefits of ManpowerGroup Talent Solutions
Our expert recruiters go above and beyond
There are no two organizations that are alike. That is why our expert recruiters go the extra mile to understand your organization and the job skills required for success. Our recruitment process outsourcing benefits entail:
1. Expert Recruiters
We employ tried-and-true sourcing strategies to determine where the talent is and how to best recruit it. Our experience and expertise expedite the hiring of the right people for you.
2. Spearheaded Approach
We bring cutting-edge insight, innovation and technology, keeping our clients ahead of the competitive curve
3. Customized Solutions
Our RPO process begins with our clients' objectives. It's a completely collaborative approach in which we are strong but adaptable partners. We fully understand your corporate culture, business strategies, and recruitment requirements.
4. Global Reach and Local Expertise
We have a deep understanding of each local market in which we serve and leverage our global network to meet your workforce needs anywhere in the world, backed by the world's largest footprint and dedicated recruiting centres.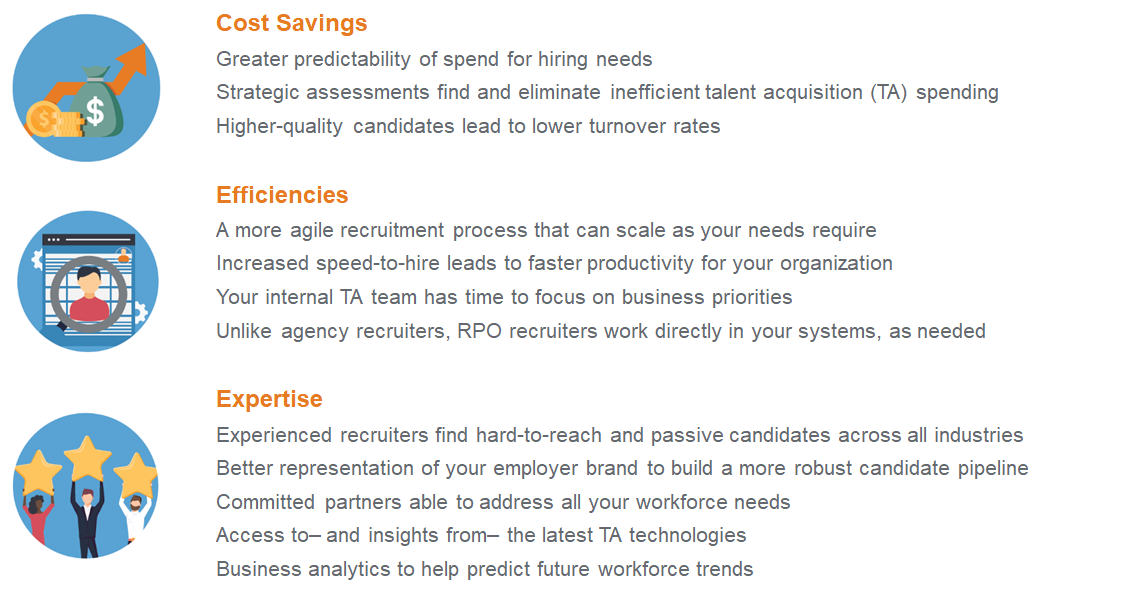 ​As a top Recruitment Process Outsourcing company, learn more about how we can assist your company with our services & solutions.
​
​