While technology has previously allowed us to automate repetitive and laborious tasks, Artificial Intelligence (AI) is rapidly encroaching on the realm of non-routine, cognitively complex tasks. For the first time in history, knowledge workers must face a future where their skills are no longer monopolized by humans. This paper investigates the history of artificial intelligence, its relationship with the labor market, and the future of AI-empowered work.
4 Myths about Artificial Intelligence in the Workplace

​Given its potential to completely transform how we work, communicate, and life, artificial intelligence is understandably one of the most divisive topics out there. Yet some common misconceptions still exist about AI's definition, its impact on jobs, and the intentions of corporations using the technology.
In the Middle East, 20.8 million FTES and $366.6 BILLION in wages are associated with activities that are already automatable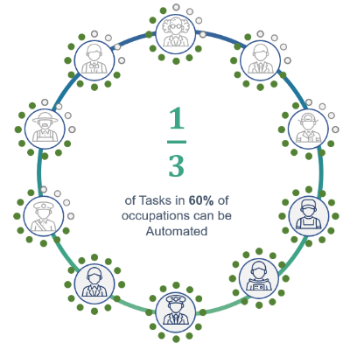 AI will automate a significant portion of work
While the technical feasibility of automation is important, it is not the only factor that will influence the pace and extent of automation adoption. Other factors include:
The cost of developing and deploying automation solutions for specific uses in the workplace

The labour market dynamics (including quality and quantity of labour and associated wages

The benefits of automation beyond labour substitution

The regulatory and social acceptance.
Of all AI adopters, around 80% (employment-weighted) report doing so to improve the quality of their product or service, 65 percent to upgrade existing processes, and 54 percent to automate existing processes.
Some occupations, such as radiologic technologists and machinists, have a high rate of automation relative to augmentation. Therefore, labor demand will fall in these occupations. Conversely, in other occupations, including industrial engineers and analysts, augmentation has been more important than automation, resulting in an increase in employment in these occupations. Interestingly, many occupations are either simultaneously exposed to both augmentation and automation or are not exposed to any technology at all.
Download the full report for a deep dive into the world of AI and how it is affecting today's workforce.